MBA SCHOLARSHIPS FOR UNDER-REPRESENTED MINORITIES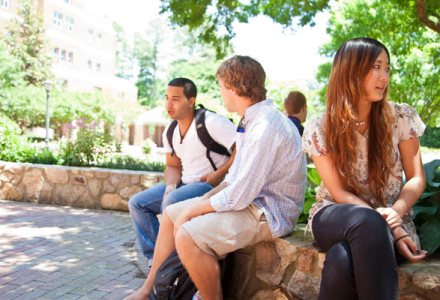 We consider diversity to be one of Kenan-Flagler's greatest assets. We actively recruit talented individuals from all ethnic groups and support a variety of organizations and activities that promote the representation of minorities in MBA programs.
All MBA@UNC applicants who have an exemplary record of achievement are eligible for consideration for MBA@UNC Fellowships. In addition, applicants to the full-time MBA program are eligible for UNC Kenan-Flagler fellowships that cover full or partial tuition. Full-time MBA applicants can also be considered for premier fellowships available covering full tuition and fees as well as providing a cash stipend. The Falls Prize is one of the most prestigious premier fellowship awards, awarding a $25,000 cash stipend paid over two years, as well as a full-tuition fellowship.
In addition to these opportunities, minority MBA students are also encouraged to seek out financial aid from other outside organizations. Here are some to name a few:
The Consortium for Graduate Study in Management (CGSM)
The Consortium is a network of top business schools, sponsoring companies, alumni and MBA students dedicated to promoting diversity in business leadership and education. African American, Hispanic American and Native American students are eligible for CGSM financial aid, as well as any student who can demonstrate a commitment to diversity in keeping with the organization's mission statement. The Consortium hosts an annual competition that determines the recipients for several merit-based full-tuition fellowships. Find out more on The Consortium website.
National Black MBA Association (NBMBAA)
Since its establishment in 1970, the NBMBAA has been dedicated to creating intellectual and economic opportunities for African Americans. The NBMMAA Graduate Scholarships program awards scholarships ranging from $1,000 to $15,000 to qualified MBA students who are members of the NBMBAA. Visit the NBMBAA Graduate Scholarship Program website for detailed information.
National Society for Hispanic MBAs (NSHMBA)
The NSHMBA was established in 1988 to foster Hispanic leadership by advancing graduate education and professional development. The NSHMBA Scholarship Program grants awards between $2,500 and $10,000 to qualified students who are BSHMBA members and enrolled in MBA programs. See the NSHMBA Scholarship Program website for additional information.
Hispanic Scholarship Fund (HSF)
The HSF is the nation's leading Hispanic higher education fund and has awarded more than $300 million in scholarships since its inception in 1975. A variety of HSF scholarships are available for Hispanic graduate students. For more information, visit the HSF Scholarship website.
American Indian Graduate Center (AIGC)
The AIGC is a national organization that supports American Indian and Native Alaskan graduate and undergraduate students by providing them with financial aid. Since its founding in 1969, AIGC has helped more than 15,000 graduate students in all fields of study by awarding more than $44 million in fellowships. Visit the AIGC Graduate Fellowships website for more information.
Robert Toigo Foundation
The mission of the Robert Toigo Foundation is to inspire more minorities to pursue careers in finance. Founded in 1989, the foundation provides leadership training and mentoring as well as financial assistance for MBA students who are members of minority groups. Read more about MBA fellowship opportunities on the Toigo Fellowship website.