STATE-BY-STATE: LLC STARTUP FEES MAPPED OUT ACROSS THE U.S.
Whether you are launching your first business or have been operating as a sole proprietor for some time, you have likely explored the idea of forming a Limited Liability Company (or an LLC). When you form an LLC you create a separate person from the individual or individuals who own it so that your business looks and acts like a separate legal entity. Changing the format of your small business to an LLC offers a wide range of advantages for entrepreneurs that may be in your best interest. Among the main benefits of LLC formation are asset protection, credibility, deductible employee benefits, tax savings and the ease of raising capital.
To become an LLC, you must first file your paperwork, also known as your "articles of organization." The exact rules for forming an LLC differ by state, and the paperwork filing fee ranges from $40 to $500. To help make it easier to find the LLC startup cost in your state, MBA@UNC created the following map to display the initial fee for filing articles of organization across the United States.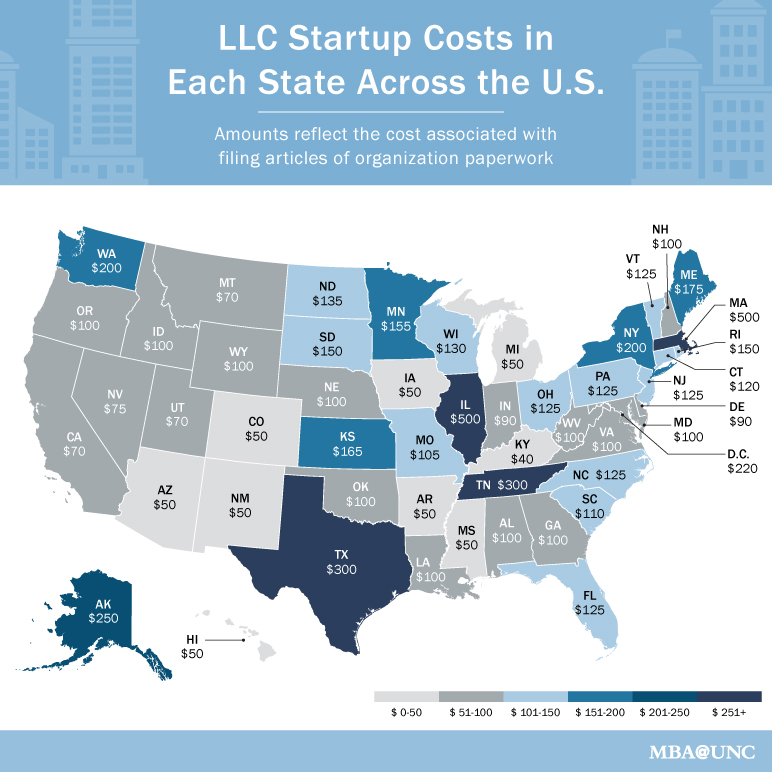 While details like your filing fee vary by state, rules for forming an LLC all follow some general guidelines, which are outlined by the U.S. Small Business Administration.
A business name must be unique from any other existing LLC in your state, must indicate that it is an LLC, and must not use words that are restricted by your state.
The articles of organization document legitimizes your LLC. It includes general information, including the names of the LLC and its members and their personal contact information.
To run your business legally, there are certain licenses and permits that must be acquired. Regulations are dependent on industry, state and locality. The U.S. Small Business Administration provides resources to help you understand which requirements you must abide by.
An operating agreement is suggested to multimember LLCs to spell out the details of the business arrangement. Among the recommended information to incorporate is each member's percentage of ownership, rights and responsibilities.
Depending on your state, you may need to announce your LLC formation. For more information on this process, contact your state's business filing office.
If you want to hire employees, you need to remain compliant with federal and state regulations throughout the recruiting process.
For more information on how to form an LLC, select your state from the list below.