CREEPY VS. COOL: THE RETURN OF BEACON MARKETING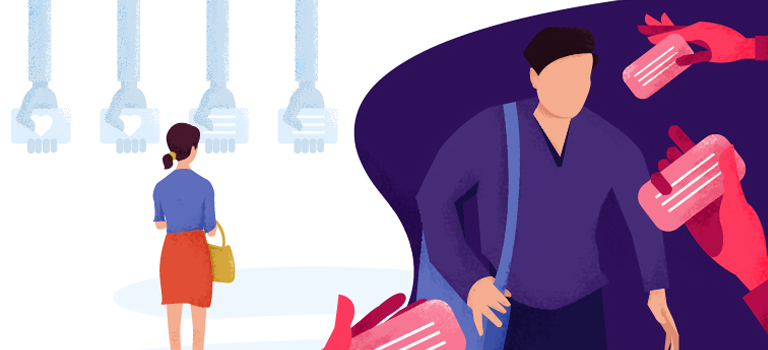 The future of shopping was supposed to be transformed by Apple's iBeacon, a tracking technology unveiled by the tech giant in 2013 and installed in 254 of its gleaming U.S. stores.
Analysts were giddy as they envisioned the devices in every retail shop, from department stores to groceries to boutiques.
The beacons — tiny devices synced with a shopper's smartphone via WiFi or Bluetooth signals — allow retailers to identify and track people as they march down the aisle, knowing what they bought in the past and, hopefully, what they want in the future. Are people visiting the cosmetics aisle? Or lingering by that Legos end-cap display? Maybe a coupon sent to the consumer's phone could turn a browser into a buyer.
The technology promised to open the door to a truly personalized shopping experience.
"That's the holy grail of marketing," said Arvind Malhotra, a professor of strategy and entrepreneurship at the University of North Carolina Kenan-Flagler Business School. "Everyone dreams of doing this."
Today, the headlines about iBeacons and other location-based marketing attempts are less rosy.
"Why Beacons Are Failing and What Retailers Can Use Instead," wrote Total Retail, which follows marketing trends in the retail industry. "Beacons Fail to Light Up Retail Marketing," noted Annalect, a marketing strategy firm in New York. Bloomberg Businessweek was harsher, calling the iBeacon a sign of "Apple's failed retail revolution."
And yet, the dream remains – and it has expanded far beyond just beacons.
Analysts and retailers continue to work toward an idea with huge potential. But there are significant problems, including privacy issues and doubts about how much the technology benefits the consumer.
The debate is often bluntly categorized as creepy vs. cool.
A report by Accenture Technology Labs examined how consumer reactions change as the marketing push gets more personalized. It begins at the low end, with mass emails. Then it's Facebook demographic ads, followed by Netflix's movie picks that are based on prior viewing history. As the retailer gets more information, the pitch gets more specific.
The point where it goes sour, according to Accenture, is when a clerk "greets you by college nickname and suggests you're low on intimate personal care products."
Consumers are not necessarily put off by companies using personalized data. Seven out of 10 consumers said they'd be willing to allow in-store tracking and push notifications if retailers gave them the right incentive, according to the 2016 Future of Retail Study by Walker Sands.
Malhotra, the UNC Kenan-Flagler professor, provided an example. He said he wouldn't mind if a supermarket, using tracking devices, figured out he was standing in the Oreo cookie aisle and sent an instant coupon to his phone. Maybe the store knew he bought Oreos in the past.
"It's all about the value to consumers," Malhotra said. "So it better not be a 50-cent coupon."
The tricky part for retailers is figuring out the sweet spot for a shopper like Malhotra. If the store is going to use his personal data and interrupt his shopping trip, it better be for a good reason.
Younger consumers are even more sensitive to this, Malhotra said. "They have a really good understanding of how valuable their attention space is."
Beacons may not have made an impact in the retail world, but they are being adopted in other arenas. Banks are looking at using beacons at ATMs and in lobbies to personalize the experience. Disney uses beacons at some parks to help guide visitors, giving them directions to attractions. Sports teams are using beacons to sell jerseys and boost food sales with promotions.
To deliver this personalized experience, many retailers have turned to apps.
They love it when shoppers download their apps and give permission for the software to track their location and send push notifications.
Whole Foods has tested sending location-based offers to people using its app as they neared competitors. McDonald's can offer location-based coupons. CEO Steve Easterbrook told analysts in early 2017 the fast food chain's app was downloaded 18 million times by more than 11 million registered users. He planned to expand mobile ordering and payment options, and geolocation could help alert staff when customers arrive for pickup.
One retailer's app allows shoppers to scan items for additional discounts. That information is invaluable, but the technology isn't perfect. Malhotra said he and his wife both downloaded the app separately via their shared Apple account. When he was in the store, the app recommended he buy some feminine products.
"It was quite funny," Malhotra said.
Starbucks is using location information in its app for mobile payments and to tell consumers what music is playing in their stores. There's even an FAQ about how Starbucks uses this data. But Starbucks could be doing even more with that information. For now, it's holding off. Malhotra thinks that's wise.
"Retailers realize this is risky," he said. "Geolocation is pretty sensitive."
Consumers don't want to be bombarded with messages or made too aware of all that the retailer knows. One contact via push notification or email might be useful; eight is probably too many.
"Their biggest fear is that the app is deleted or you block them," Malhotra said.
That's what happened after he allowed a movie and game rental kiosk service to text him. He started out getting a free rental offer once a month, based on how close he was to a kiosk location. He thought that was a good deal, but eventually he was deluged with "Rent 1, Get 1 Free" offers — as often as once a day.
He had enough. The intimate relationship that technology permits between retailer and consumers can also turn negative.
"Last night, I texted them STOP," he said. "Now, they've lost me."
Citation for this content: MBA@UNC, UNC Kenan-Flagler's online MBA program