6 THINGS TO CONSIDER WHEN CHOOSING AN ONLINE MBA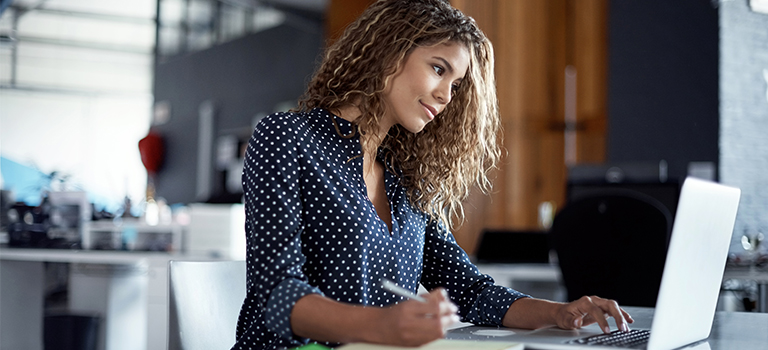 Today, earning an MBA is more attainable than ever. Thanks to online education, you no longer need to uproot your entire life and move to a new city to pursue a degree at a prestigious institution.
Megan Parker, associate director of coaching for career and leadership for MBA programs and alumni at University of North Carolina Kenan-Flagler Business School, says prospective students should know they're not sacrificing academic rigor for the convenience of attending classes online, either.
"Students will need to work incredibly hard," Parker said, to balance "the intensity of the program combined with working full time."
With the significant time and financial commitment to earn an MBA, consider these key factors to find the program that's the best fit for your lifestyle and career goals.
Accreditation
With the growing number of online MBAs, school accreditation is a good starting point to find reputable programs. An accredited program has had its curriculum audited to ensure it meets the highest levels of academic rigor.
While an unaccredited program doesn't necessarily lack educational merit, a degree from one of these schools can be a red flag on your resume, and recruiters may question whether the institution is a diploma mill. Non-accredited programs often offer a faster, cheaper route to a diploma, but they can limit your use of professional suffixes and even disqualify you from certain jobs.
Accreditation is also a common requirement to receive financial aid, so if you know you'll be looking for tuition assistance, you may want to consider only accredited programs. You can verify a program's accreditation by using The Council for Higher Education Accreditation's online database.
Financial Aid
Figuring out how to pay for your degree can be a daunting part of the application process, but there are resources that can help offset the cost of tuition.
Consider starting with the Free Application for Student Federal Aid (FAFSA), which can connect you with a range of government-sponsored financial aid options such as grants, loans and work-study programs. Beyond FAFSA, check if you're eligible for any number of MBA scholarships. If you have served in the military, you may qualify for veteran tuition assistance through the U.S. Department of Veterans Affairs.
Schools will often place limits on financial assistance based on the number of credits you're taking, so be sure to investigate how much aid you'll qualify for with your planned course load.
Become an exceptional leader – earn your MBA online from the UNC Kenan-Flagler School of Business. Request information to learn more about our top-ranked program.
GRE or GMAT Requirement
Standardized tests like the GRE and GMAT are a common part of the MBA application process, and one of the best steps you can take to achieve a competitive score is to set aside the necessary time to study and get familiar with the test.
To create a plan for test preparation, take advantage of the wealth of available resources, ranging from self-paced study guides to interactive online tutoring.
Some schools waive the GRE or GMAT requirement based on years of work experience. Check to see if you can apply for this waiver, especially if you already have significant professional experience.
Student Support
It's natural to feel apprehensive about returning to life as a student, especially if you've been out of the classroom for a while or have never taken an online course. It might surprise you to learn that much of the same student advising you received during your undergraduate studies will be available to you as an online graduate student.
Before classes begin, your program will likely pair you with a student adviser who can help you map your overall academic plan and connect you with other support services.
Additionally, taking the initiative to meet with professors outside class can help you build relationships and enhance your understanding of the course material. Research whether instructors offer office hours and ask admissions counselors or alumni about faculty availability.
Concentrations
Concentrations are opportunities for you to specialize in a core business area, which can be a key differentiator when evaluating the best program fit for your career.
If you choose an optional concentration, you'll want to consider the experience of the faculty that teach in your focus area, including their proven expertise with specialized business topics. Explore what opportunities you'll have to analyze real-world business cases, become proficient with the latest technological developments and work on in-depth projects to apply new skills. To do so, consult your admissions counselors and consider asking if you can attend a course session as a prospective student.
Some programs may even offer opportunities to deepen your specialization after you've earned your diploma. MBA@UNC, for example, allows graduates to take additional classes for a small fee and continue to update their transcript as they progress in their careers. If ongoing professional development is an important factor in your search, this could be a helpful area to research as you select programs.
Career Coaching and Leadership Development
Whether you're looking to advance in your current job or hoping to move to a new industry, an online MBA can provide you with the training and development tools to achieve your goals.
If you're a professional early in your career, consider programs that offer mock interview assessments and communication training. Alternatively, if you're an established professional, you may want to look for programs that provide executive coaching and real-world business immersions.
In support of a potential career change, investigate what kinds of networking opportunities a program offers to forge connections with other students and how well a program maintains its alumni network. Whether or not you're planning on a career change, it's important to choose an MBA program that's invested in developing you into an effective leader and helping you connect your studies to your professional life.
For Parker, this holistic support for students is a key part of the MBA experience.
"We can help with strategic aspects such as positioning oneself for moving ahead in their career, or tactical aspects such as executing a targeted job search," she said. "It's important to identify early on in the program what your career goals are and use the time in the program to create a plan that supports those goals by building an academic foundation, developing your leadership skills and identifying necessary steps to manage your career."
Citation for this content: MBA@UNC, UNC Kenan-Flagler's online MBA program