42 RESOURCES FOR WOMEN IN LEADERSHIP AND BUSINESS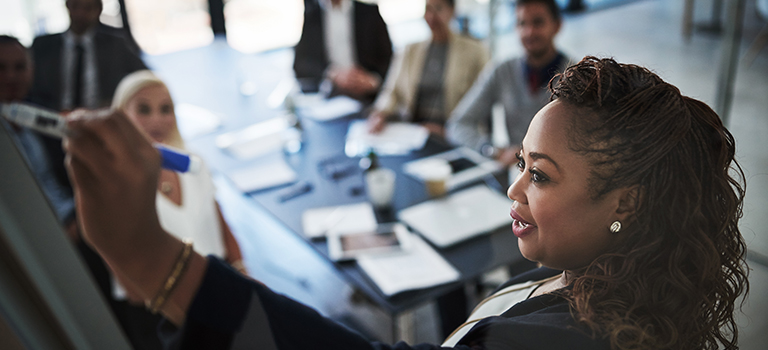 For women, "having it all" once meant balancing the demands of family and career, motherhood and management, love and work.
Today, in an era of constant connection and social media, the expectation of having it all has an added twist. Women in leadership roles and positions of privilege are also expected to be well read and informed about current events, financially savvy and socially aware, and healthy in every sense—physically, emotionally and mentally.
To this end, we've curated a list of 42 resources below to guide and support women in navigating the demands and challenges they face as workplace leaders—not because women have to have it all, but because we want women to have access to all the resources they need.
The sources are listed in alphabetical order, not by importance or priority, and arranged by category:
Consider sharing this list with friends, family members or colleagues who may have similar questions and concerns as you, as women who hold or seek positions of leadership.
Find advice on getting a job, cultivating your career and developing mentor relationships in the resources below. This section includes podcasts, professional blogs, research outlets and resource pages from a range of organizations—from the Women's Bureau to Harvard Business Review—for a well-rounded perspective in a variety of formats.
Rebecca Jarvis interviews influential women including Issa Rae and Tory Burch about their paths to success, the lessons learned and trade-offs made.
AIGA, the professional association for design, provides a list of articles, books, companies and organizations, events, projects, websites and videos that explore the challenges women face as they build their careers. Several are specific to graphic designers, but many are relevant to working women in general.
Following up on the Forbes article "What's the Next Trend in Leadership? Black Women," Aleria created a database of black women who have achieved success in a range of fields, from business and writing to analytics and strategy. Each woman's entry includes her name, organization, LinkedIn profile and/or social media account.
Alison Green responds to readers' questions and concerns from a manager's perspective, including "When Your Manager Won't Manage" and "If You're Not Getting Interviews, Read This."
The Women's Bureau offers infographics, surveys, online information sessions, reports and policies on a range of issues concerning working women, including equal pay, pregnancy and breastfeeding, and sexual harassment.
The Catalyzing blog features perspective pieces and advice columns, with a particular emphasis on gender and racial equity. Recent articles include "Yes, Asian-American Characters Can Kick Butt Without Being Martial Arts Experts" and "Five Ways Your Agile Workplace Can Be Leveraged to Help Women Succeed."
The Center for American Women and Politics (CAWP) offers a Political & Leadership Resource Map, a database of organizations and programs, arranged by state, that are dedicated to supporting women in public life.
The Cut features profiles of successful women (such as Gloria Steinem and Kamala Harris), "Ask a Boss" advice columns and feature stories on power, science and sexual misconduct.
Design*Sponge profiles women leading creative businesses, including Alexa Hirschfeld, co-founder of the Paperless Post, and Ellen Weldon, founder of Ellen Weldon Design, LLC, a custom invitation and calligraphy studio based in New York City.
The "Management Magazine" provides action-oriented articles for new and experienced managers to lead their teams with grace, honesty and enthusiasm.
Girlboss features advice, feature stories and interviews with unconventionally successful female leaders, with typical read times of less than 10 minutes.
Harvard Business Review promotes the latest research in leadership, finance, data and emerging markets—including advice for managers on work/life balance and self-management.
The Muse includes discussion boards, articles and long reads on searching for a job, moving forward in your career, being a working parent and more.
Guy Raz explores the origin stories of the successful entrepreneurs behind Atom Factory, Wayfair, Lonely Planet, Kate Spade, Lyft, Carol's Daughter and Angie's List, among many others.
Work is changing, and women in leadership roles need to stay abreast of developments in the global economy, from artificial intelligence to ride-sharing to e-commerce. Quartz provides investigative reporting on trending topics, from women in engineering to manufacturing in India.
In the words of Sallie Krawcheck, the CEO and co-founder of Ellevest and an alumna of University of North Carolina at Chapel Hill, "We won't have true equality until we have financial equality." The resources listed in this section offer financial advice specifically for women. Please note that MBA@UNC does not endorse any particular approach to managing finances.
The Daily Worth produces how-to and informational guides on money matters, such as investing, saving, credit and debt, and real estate. Articles include "How to Close a Credit Card" and "Mortgage 101: What Is Escrow, Prequalification?"
Ellevest offers financial tools and investing advice specifically designed to serve women's needs. The "Magazine" section provides articles on investing, careers, retirement and more.
Through articles and spotlight stories, LearnVest guides readers in setting personal finance goals—from saving for vacation to buying a first home to planning for retirement.
Almost half of men believe that women are well represented in company leadership when one in 10 senior leaders is a woman—and a third of women agree, according to the Women in the Workplace 2017 study by LeanIn.Org and McKinsey & Company. As Lean In author Sheryl Sandberg wrote in The Wall Street Journal, gender inequality can easily become so commonplace that it goes unnoticed.1
This section offers fresh perspectives and new research on empowering women not only in the workplace but also in the national and global communities.
Through interviews and reporting, Ashley Milne-Tyte of The Broad Experience discusses women, the workplace and the many definitions of success. Recent topics include "Saying No to Office Housework" and "Does Your Partner Support Your Success?"
The Center for American Women and Politics created a guide to empower women to become politically involved, whether running for office, giving money or mentoring the next generation of political leaders.
The Center for Strategic and International Studies' "Smart Women, Smart Power Initiative" links to both a speaker and podcast series on global and geopolitical issues, including national intelligence and global security challenges.
On the He for She "Movement" page, there are concrete steps men and women can take to create a more equitable world in the political, education and health spheres.
Lean In spearheads initiatives for advancing women and produces research reports that are clear, well-designed, thoughtful and relevant.
On its resources page, Progressive Women's Leadership includes eight recommended TED Talks given by inspirational public figures, from Elizabeth Nyamayaro and Sheryl Sandberg to former President Jimmy Carter and Madeleine Albright.
TED's "Ideas About Women" page is a collection of TED Talks, video playlists and articles by women, about women and for women.
Mental health is essential to prioritize because of its impact on personal well-being, family, and community. In the U.S., 44.7 million adults—approximately one in five—experience a mental illness in a given year,2 and this not only affects personal lives but also professional lives. For instance, the World Health Organization estimates that the global economy loses $1 trillion in productivity each year due to depression and anxiety disorders.3
Below, find resources that offer insight into various mental health conditions and how to find support.
The MGH provides resources for providers, patients and family members as they navigate mental health care.
The "Workplace Culture & Bullying" page helps victims and bystanders of workplace bullying understand their options, take action and reach out for help.
The National Institute of Mental Health offers a Web page specifically focused on mental health concerns affecting women and possible warning signs of deeper concerns.
These pages help readers understand the components of good mental health and provide information on mental health conditions, including trauma, abuse and eating disorders. The Office on Women's Health points women who are suffering toward receiving treatment and asking for help.
The following newsletters and podcasts offer updates on the daily news cycle and long-term developments in our culture, politics, economy and more. Each source is tailored to the working professional, providing high-quality news in a digestible format.
This daily newsletter is for women on the go. It's easy to read and written in the voice of a best friend catching you up on the news of the day.
In less than 20 minutes, The Daily host Michael Babaro interviews reporters and political and public figures on one piece of daily news.
NPR political reporters summarize the news of the day and round up the news of the week for listeners.
Vox Sentences offers quick takes on daily news with links to the original reporting.
With The Call, former political strategist Erica Williams Simon interviews women who are pursuing their goals—whether political activism or television acting—to challenge and encourage women to explore their own callings.
Created for busy women looking for time to rest and relax, this newsletter offers self-care tips and recommendations of books, television programs, movies and activities.
Diverse teams in business bring a range of perspectives, voices and backgrounds to the table. Yet racial inequity remains a problem in the workplace, particularly for women of color. According to the Women in the Workplace 2017 study, women of color receive less support and advocacy from managers than white women. This section highlights organizations and projects that seek justice and equity for all groups of people. The list offers a starting place for women leaders who want more diverse representation in their teams and companies.
Catalyst endeavors to create solutions for more equitable workplaces. "Research & Insights" explores research by topic, which includes not only race and ethnicity but also inclusive cultures, LGBTQI and unconscious bias.
The Journalism Diversity Project lists hundreds of available digital journalists of color, countering the claim from companies that "can't find qualified minorities." Their expertise includes coding, design, photography, data analysis and more.
The NAPAWF connects women in the Asian and Pacific Islander census category through chapters across the U.S. Under "Issues" the group provides analyses and toolkits on reproductive health and rights, economic justice, immigrant rights and the Supreme Court.
The Racial Equity Resource Guide allows readers to find journal entries, books, magazines, videos and more that are specifically focused on racial equity.
Two million Americans report experiencing workplace violence each year—but the Occupational Safety and Health Administration (OSHA) believes many more incidents go unreported.4 The resources below provide critical information about preventing, reporting and recovering from workplace violence.
The AHA links to national and state resources on preventing violence in the workplace, specifically for those in healthcare settings.
MySafeWorkplace is an anonymous reporting system that allows you to report major concerns in your workplace, such as substance abuse or theft, without sharing your name. The message is then communicated by MySafeWorkplace to your organization's leadership.
OSHA's "Workplace Violence" page offers information on workplace violence and prevention programs for controlling violence against and among employees.
1https://www.wsj.com/articles/sheryl-sandberg-on-how-to-get-to-gender-equality-1507608721↑
2https://www.nimh.nih.gov/health/statistics/mental-illness.shtml↑
3http://www.who.int/mental_health/in_the_workplace/en/↑
4https://www.osha.gov/SLTC/workplaceviolence/↑