WHEN WOMEN LEAD, DIVERSITY FOLLOWS
How do you create a more inclusive workplace? A recent survey by UNC Kenan-Flagler Business School Executive Development suggests one way: Make sure women are leading your business.
The Benefits of Female Leadership
Female-led businesses are more likely to have a mature diversity and inclusion function, and are less likely to run into hurdles with senior leadership, according to the survey. These organizations are more likely to be satisfied with efforts at creating an inclusive culture, and companies with women in executive leadership roles, especially, are more confident in their ability to continue to foster a diverse culture.
"The conversation is changing about diversity and inclusion," said Kip Kelly, UNC Executive Development director of public programs. "Companies are recognizing that diversity is not optional—it is critical to the success and sustainability of every organization."
In a number of ways, female-led businesses perform better than their male-led counterparts.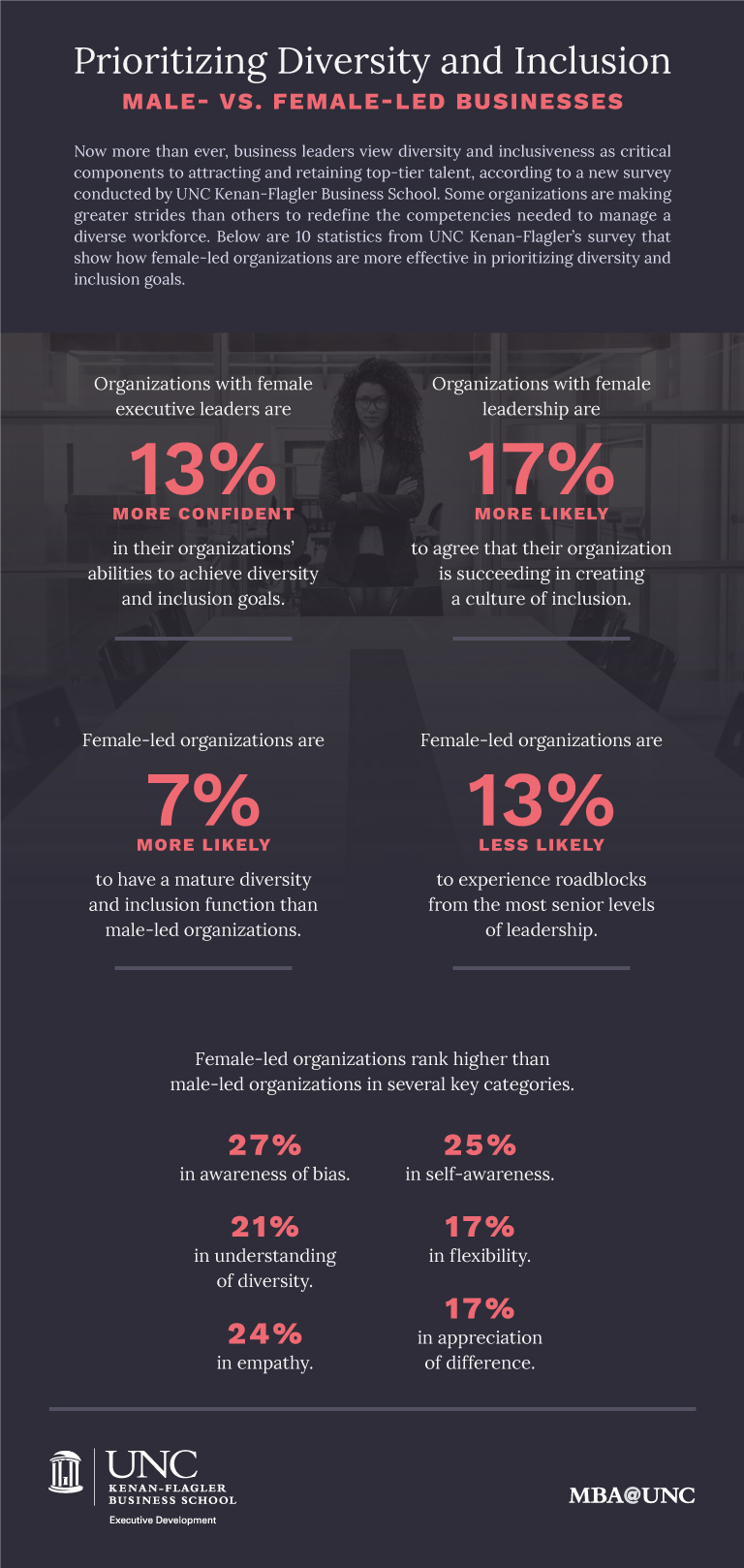 Growing Representation of Female Business Leaders
For decades, the relative absence of female leadership in the business world made it impossible to study how well organizations that put women in the C-suite would do. But over the last half-century, women's participation in the U.S. workforce grew steadily. In 1960, just one in 10 moms were the sole or primary breadwinner in U.S. households, according to a 2013 report by the Pew Research Center. By 2011, that number had quadrupled. The wage gap has also narrowed. In 1980 the median hourly wage for American women was 64 percent as much as men, and in 2012 it was 84 percent.
These days the characteristics of workplace leadership—such as intelligence, toughness and capacity for innovation—are seen as interchangeable between men and women, according to a 2015 Pew study. Yet, leveraging diversity remains a complex problem for many organizations. Women still make up a smaller share of top leadership positions in corporate America. Women make up half of today's workforce, but less than 20 percent of senior executives are women. Just 23 women will serve as CEO of a Fortune 500 company in 2016—less than 5 percent. Those numbers fly in the face of actual boardroom performance.
Studies have found that organizations with women in leadership roles do better. Development Dimensions International's 2014-15 Global Leadership Forecast report found that the leadership of companies in the bottom 20 percent of financial performers were 19 percent female, whereas women leaders made up nearly double that number (37 percent) in the top 20 percent of successful companies.
Differences in Diversity: Men Vs. Women
When it comes to diversity and inclusion, there are differences between female- and male-led organizations. And by many measures—flexibility, appreciation of difference, understanding diversity, empathy and self-awareness—those led by women performed better, according to the UNC Kenan-Flagler survey.
Business leaders know how important it is to improve diversity in their organizations. A UNC Kenan-Flagler Executive Development white paper found that more than 95 percent agreed that becoming more inclusive is critical to their success as an organization. And 75 percent agreed that figuring out how to do so was a high priority.
The disparity in the data suggests a big hike ahead before true diversity becomes a reality. But it also suggests that reaching the summit is both right and profitable. The good news is that there's ample evidence that many organizations have already strapped on their hiking boots and set off on the trail.
"Successful companies are working harder to foster a culture of inclusion," said UNC's Kelly, "and they're holding their leaders accountable."