MAKING THE MOST OF CONFERENCES IN 2019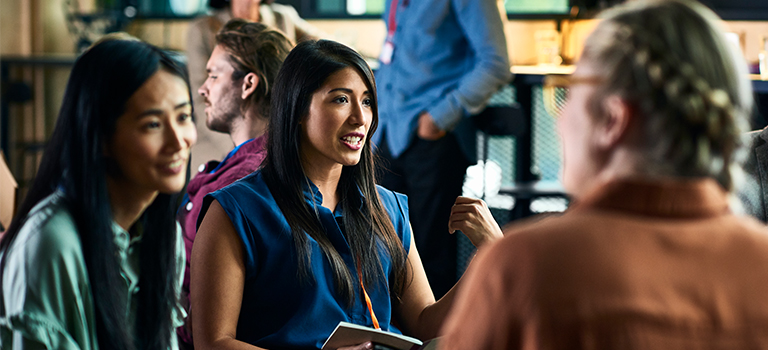 If you're looking to gain new perspectives on emerging trends and challenges in your industry, taking a step outside the office might be the best place to start. Attending conferences is an engaging way to connect with other professionals but also an opportunity to learn about topics you may never have been exposed to otherwise. In order to maximize the experience, it's critical to create a plan that leverages the limited amount of time for networking and minimizes potential burnout from information overload.
Tips for Attending Conferences
Most conferences have simultaneous speakers and networking events; it's impossible to participate in every opportunity. Decide on a few small goals to organize and maximize your time spent at a conference:
Identify the business value. Outlining business needs that could be met by attending the event can allow attendees to more clearly focus on one or two goals, whether that's recruiting, learning a new skill or identifying potential business partners.
Research the speakers. Learn more about the speakers, and you'll likely be able to narrow down which panels and events would be the most beneficial to your business needs. And, if you run into them at a social event, you'll have enough background information to make a casual conversation more meaningful.
Network with other attendees. Even for introverts, conversations with other professionals can often be more valuable than the sessions themselves. Ask, "What was your favorite session so far?" Or, "Why did you choose this conference?" Bring your business cards to ensure those you met can find you later.
Connect on social media. Post images and takeaways on Twitter using an event's dedicated hashtag to find other attendees, and then connect on LinkedIn to stay in touch long-term.
Schedule time to recharge. It's important to acknowledge the physical and mental boundaries of continuing education, as overstimulation can cause fatigue. Reenergize with a quick break for food or exercise in between sessions. If you can, take a day off before returning to work.
Share your findings. Make time to debrief with colleagues about what you've learned, or create a presentation that includes the most valuable or surprising findings. Decide whether to attend again, and take advantage of early registration discounts.
Conferences to Attend in 2019
No matter your level of experience, there is something for everyone to learn, especially at events that dive into niche topics and industries. While a traditional business conference may provide practical information and connections, attending events focused on health, education, media and culture can enable you to stretch the boundaries of their continuing education.
Spring
Summer
Fall
Citation for this content: MBA@UNC, UNC Kenan-Flagler's online MBA program.