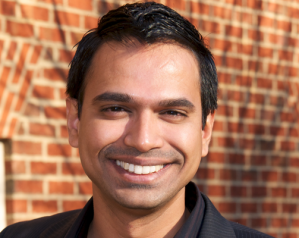 RAJIV SRIDHAR
Product Management
Senior Product Manager at PayPal
"I'm already a better manager"
Two words: greater opportunity. What I learn in class today, I apply to my work tomorrow – from leadership skills to strategic planning. So in addition to earning credits at school, I am also earning credit at work. I'm already a better manager, with a deeper impact on the success of my company. And over the long term, I'll create a business of my own!
"UNC Kenan-Flagler's amazing professors have gone all out"
If you're my age, you probably remember the feeling when you first bought something online. I had that feeling. I was excited about joining MBA@UNC, but I confess that I had lingering concerns about the quality of the online experience. I'm happy to report that UNC has done a phenomenal job with every aspect of this program – content, structure, and delivery.
UNC Kenan-Flagler's amazing professors have gone all out in creating these educational tools. Case in point: two of my statistics professors did a skit to help us understand regression! In the synchronous stream, we have lively discussions with 'break out' sessions for small group projects. The two streams combine to create an incredible learning experience. The subject matter is comprehensive. The faculty did not take the full-time courses and cut corners. These are the full-time courses.
The technology platform is brilliant! Everything is done through one portal. Live sessions, recorded classes, group projects, individual assignments. It's seamless. MBA@UNC is a glimpse into education in the future!
Get Started Now
If you are ready to get started, apply now to join our next cohort.