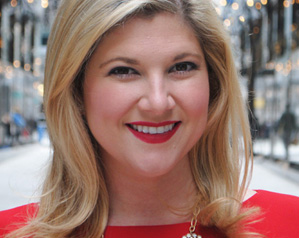 MICHELLE JOHNSTONE
Marketing
Director, Marketing and Communications at National Real Estate Advisors
Setting Her Sights on the C-Suite
Two years after graduating from Florida State with a BA in theater performance, Michelle Johnstone changed paths and began her career in commercial real estate. After seven years of progress, she reached a plateau and decided to gain the formal credentials that would allow her to advance into operations or a C-suite role. This is her MBA@UNC story.
"I knew this path would be challenging, but I needed to broaden my academic background to accomplish my goals. I began searching for a program that would allow me to stay in D.C. and continue to grow in my professional role while still balancing my responsibilities taking care of my family."
Combining Flexibility and Rigor
Michelle also considered local full-time or evening options, but these programs didn't offer the flexibility that she needed, both as a busy working mom and as a student seeking a curriculum that fit her specific professional needs. She ultimately decided on MBA@UNC because of its combination of rigorous coursework on a flexible schedule.
"I wanted a program that would work for me, rather than force me to fit into its confines. No local programs offered the flexibility I wanted, and then I saw MBA@UNC ads around D.C. that caught my attention. Having considered UNC for undergrad, I felt like the signs were telling me to come back to the school."
Forming Meaningful Connections
Before starting her degree, Michelle had doubts that an online program could facilitate a supportive network of professional connections, but the powerful culture of MBA@UNC delivered an experience that exceeded her expectations. She now considers her former classmates some of her closest friends, and they are in constant communication about their careers and personal lives.
"You enter this digital classroom thinking you're just a little box on a screen but come out of it with lifelong friendships, job promotions and established relationships with some of the top professors in the country. That's a pretty moving reality, and I believe that the online platform brought us closer and fostered connections across regional divides, in a way that wouldn't otherwise be possible.

I also want to stress the importance of attending immersions to meet your classmates in person. The program offers these opportunities extensively, and they made a world of difference for me when I took advantage of as much of them as possible."
Applying Entrepreneurial Skills
As a student, Michelle concentrated in marketing and entrepreneurship. Though she isn't planning to start her own business, she has tapped into the entrepreneurial skills she learned within her current role by creating a marketing department and growing it from the ground up.
"I was promoted to head of marketing for my company shortly after graduating from MBA@UNC. The skills I learned in the program, such as corporate strategy, finance and management, all set me up for success in my new position. The shift was instantaneous after receiving my degree.

UNC does a great job at recognizing all MBA students and alumni, regardless of the program they were in. Since graduating, I have attended multiple UNC Kenan-Flagler events and built relationships with alumni from the full-time on-campus program and the executive MBA program."