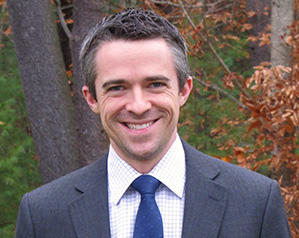 JONATHAN T. MORGAN
Information Technology
Director of Research Alliances at Area 1
I graduated from the University of Notre Dame as an Arabic Studies and Political Science double major and went on to work for BAE Systems in the Washington DC area for a few years thereafter. After working in the defense industry, I pursued an opportunity to launch a small business development firm to help small businesses expand their product and service offerings to developing markets – primarily focused on Africa. One of my clients at that time was Cardinal Resources – a solar powered water purification system company uniquely positioned for rapid growth and expansion throughout the continent and beyond.
Six months after my first class at MBA@UNC (and only two weeks after I closed my business development firm to pursue other opportunities) I was offered a position as Vice-President of Operations at Cardinal Resources – which I eagerly accepted.
Less than one year in, MBA@UNC has prepared me for the full range of conversations, decisions and projects in which I am now involved on a daily basis. One of the most exciting aspects of the program so far has been the relevance and immediate applicability of virtually every topic we have studied. Every day I find I draw from a broad range of lessons from the courses, which specifically relate to my new leadership position in this a small, rapidly growing company, which is in the very challenging stage of going public.
The admissions process was a nerve-wracking time for me. I wanted to participate in the best, most challenging program possible, while still being able to travel as frequently as necessary (a required downside of any job I would have). I considered several EMBA programs, and was offered some very sizeable scholarships as well, but in the end I could not be more satisfied with my decision to choose MBA@UNC. The caliber of people with whom I interact on a daily (yes – daily, there is a lot of work!) basis through the program is phenomenal. I especially enjoy the ability to fly virtually anywhere in the US and be able to meet up with someone I met through the program. The flexibility of reviewing course material at your convenience and at your pace (its like having a pause and rewind button on your professor!), the ability to regularly meet face-to-face online with your classes and as small groups, and the quarterly immersions make this program as close to perfect as I can imagine.
Get Started Now
If you are ready to get started, apply now to join our next cohort.