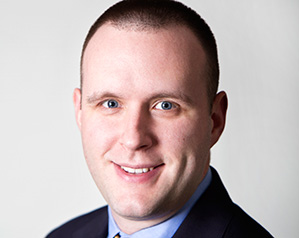 JON ZIMMER
Marketing
Director of AFC Football Communications at National Football League
When I revisited the idea of pursing an MBA, I started to look at the options of the time commitment and the structure of physically having to be some place at a certain time on a regular schedule, and that never felt like something that I could achieve in my current job. Working in media relations, the time demands are almost never ending.
Being able to take classes from wherever I happen to be, if I'm on the road for a game or if I'm on the road for a calendar event, and to have access to the material even while I'm on a flight is an incredible innovation that allows me to stay on top and maximize every hour in the day, while also putting in the time in that I feel is necessary to maximize this kind of educational experience and still not shortchange what I'm doing at the office.
My most unique login location was actually my first week in the program, in July of 2013. I knew that I had a USO tour coming up that summer where the NFL brings over former players and executives to visit with the troops. I was able to login, access asynch material, and then actually log into my first class from Afghanistan, which was pretty incredible.
Get Started Now
If you are ready to get started, apply now to join our next cohort.