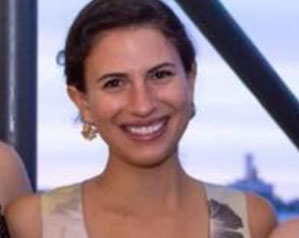 JESSICA SHOR
Financial Services
Operations
Finance Manager at Enel Green Power North America
Building on the Fundamentals of Business
Jessica Shor took an unlikely path from college to career: She majored in social anthropology at Yale and then took a job in renewable energy. Although she had confidence in her business acumen, she wanted to master the fundamentals with a graduate degree in business. This is her MBA@UNC story.
"I've worked in business since college, first in operations and more recently in project finance for renewable energy projects. While I've learned a lot on the job, I felt I lacked fundamental knowledge of fields like strategy, leadership and accounting. Getting an MBA allows me to develop those skills and keep progressing in my career."
Making Time for Everything That's Important
When her transactions are closing several times a year, Jessica sometimes works up to 100 hours a week. Outside of work, her schedule is full with several clubs, marathon training and trying to make time for friends and family. Ultimately, she decided that moving forward with an MBA program was best for her career, and she committed to making it all work.
"As I debated a part-time MBA, I actually made an Excel spreadsheet to calculate whether I had enough hours in the week to accommodate everything I wanted to do—down to brushing my teeth!

MBA@UNC's format is incredibly flexible. I'm based in Boston but have joined my synchronous sessions from Delhi, Berlin, Jackson Hole, San Diego, St. Louis and my college reunion in Connecticut. My weekly schedule can be unpredictable, so being able to complete asynchronous material, homework and exams on my own time and from anywhere has allowed me to make fewer sacrifices than I would have with an in-person program."
Enjoying the Camaraderie
Few people, including friends and family, understand what it's like to earn an MBA while continuing to work full time. While enrolled, Jessica discovered the importance of having a network of people who were going through this journey with her.
"We're all juggling school and full-time work, which most of our friends and co-workers can't relate to. My classmates have come from all over the world and work in industries as diverse as healthcare, candy manufacturing and rental cars. That diversity creates great discussions, but our shared experience helps create a sense of community."
Opening Her Eyes to New Skills
Jessica admits she had never given much credence to the science of soft skills before taking the MBA@UNC Leadership and Management course, yet she was able to apply those frameworks immediately in her role.
"I've taken on much more responsibility since I started MBA@UNC, and what I've learned in my classes has been directly applicable to my job. From studying how to delegate strategically and motivate employees in Leadership and Management, to learning about revenue recognition in Accounting, to practicing Monte Carlo analyses in Analytical Tools, I've applied something from almost every class at work."
Get Started Now
If you are ready to get started, apply now to join our next cohort.