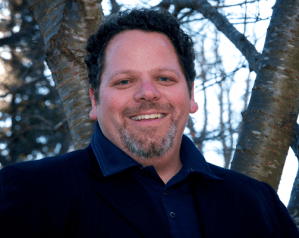 JAMIE DEMARIA
Education, Healthcare, Operations
Senior Vice President, Education at Medscape
"Flexible enough to fit into my busy life"
I love my job, so leaving it for a full-time MBA program was out of the question. My wife and I both travel for work, and we share the parenting of our two active boys, ages 8 and 10. MBA@UNC was the only top-ranked program flexible enough to fit into my busy life.
"Meaningful friendships with my classmates"
I wondered whether the online format would allow the class to bond. But even though we only meet for a few hours each week, I've already formed meaningful friendships with my classmates. Each of us brings a different perspective from our industry and experiences. But there's a commonality, because we're all going through this unique experience together. I marvel at the skills and insights of my classmates, and am amazed by the learning that takes place between us online. There's camaraderie and openness – a willingness to help each other. We have a good time together, and it makes the process fun!
"It's a great way to learn"
I didn't realize how the online course delivery would actually reinforce my learning. Some concepts I always understand right away, and others I don't quite grasp the first time around. With the MBA@UNC virtual classroom, I can pause, rewind, and re-play my recorded classes until I understand. It's self-paced and flexible – it's a great way to learn!
"Rewarding exercise in real-time learning"
In my role leading Medscape Education's strategic development group, I have countless opportunities to apply my coursework to drive success at my company. Recently, I used the concepts I'm learning in my Marketing and Analytical Tools classes to help my teams develop a dynamic marketing campaign and new-product launches for the coming year. MBA@UNC is an incredibly rewarding exercise in real-time learning!
Get Started Now
If you are ready to get started, apply now to join our next cohort.