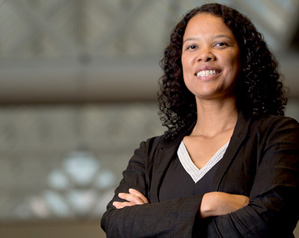 DENISE WHITFIELD
Healthcare
Director of Education and Innovation, L.A. County EMS Agency; Assistant Professor of Clinical Medicine, UCLA
Making a Meaningful Transition
When Denise Whitfield applied to MBA@UNC, she was completing her final active-duty military assignment as a White House physician during the Obama administration. As she transitioned to civilian life, she envisioned herself becoming a stronger leader who would make a broader impact on organizations that served patients. This is her MBA@UNC story.
"As I was considering my next career steps, I felt very confident with my clinical skills in medicine but felt the need to grow my ability to impact an organization. I wanted to do more than work shifts in an emergency department. I wanted to become a change-maker for the better."
Following in the Footsteps of Success
With a recommendation from a colleague, Denise was confident that MBA@UNC would develop her into the leader she wanted to be. She knew that the UNC Kenan-Flagler brand represented a deep commitment to curricular innovation and leadership development.
"I heard about MBA@UNC from a mutual friend who was also an emergency medicine physician. He was a member of MBA@UNC's inaugural class and did very well for himself. I was inspired. I was matched with an Admissions Counselor after requesting information on the Web site, and the application process was made very simple."
Tapping Into Her Strengths
Since enrolling in the program, Denise has learned a lot about business, and a lot about herself. Having been out of medical school for 12 years, she had some concerns about the demands of going back to graduate school—but she found the coursework challenging and very rewarding. The program's flexibility made it possible for her to complete assignments when it fit into her schedule.
"Being able to pick my class days and watch class material on my own time—while traveling, on vacation, at a coffee shop after work—has made earning my MBA possible. I did not want to break from clinical medicine, and MBA@UNC allowed me to maintain a full-time student status without interrupting my career."
Gaining Leadership Skills Abroad
Denise has found the in-person immersions to be especially helpful for spending time with classmates. She has used the leadership tracks to dig deeper into her strengths, weaknesses and natural disposition as a leader and build on identified strengths.
"The leadership curriculum in the MBA@UNC program helped me to learn to apply my attributes to gain influence in my workplace interactions. I also have a different perspective. Whereas my previous focus as a physician was 100 percent clinical, I now understand details of operational efficiency, customer service and marketing. Each of these factors impacts patient experience, and I'm able to use these insights daily."
Get Started Now
If you are ready to get started, apply now to join our next cohort.