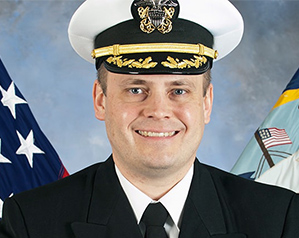 CHRISTOPHER OSBORN
Military
Commanding Officer, U.S. Navy
On his way to becoming a commander of a U.S. Naval submarine, Christopher Osborn compiled an impressive resume that includes a master's degree in operations research. Now, as he looks to take the next step in his military career and prepares for an eventual transition to civilian life, Christopher is looking to develop new skills that will position him for long-term success. This is his MBA@UNC story.
"As I went up the ranks, I learned that as you get more senior, you start moving away from technical duties and need to have a mastery of leadership and soft skills. I knew that if I wanted to continue expanding my horizons, I needed a leadership-focused MBA."
Making the Decision To Return to the Classroom
As a high-ranking U.S. Naval officer, a husband and a father, Christopher was well aware of the challenge ahead of him if he decided to pursue an MBA. Having never worked full time while earning a degree before, Christopher not only needed a program that he could tailor to fit his schedule, but also one that would command the respect a world-class MBA education should.
"I wasn't pursuing a check-the-box MBA; I wanted to get value out of what I was putting into it. It took a lot of heart-to-heart discussions with my wife, but I was serious about it and we knew the value coming out of it would be well worth the sacrifice."
Joining a Community of Non-Military Professionals

As soon as he enrolled in MBA@UNC, Christopher was able to connect with other active duty military members and veterans in the program. While he found their advice extremely useful, Christopher was surprised by how much value he found in studying alongside professionals from other industries. The close connections he formed with his classmates allowed him to apply new strategies and tactics to his own day-to-day work.
"The military is such a niche organization, and you quickly find yourself immersed in cultures within cultures. By working alongside very talented peers from different walks of life, you gain uniquely valuable perspectives that you can apply to your everyday work in the military. I have been pleasantly surprised by the strength of friendships I formed through MBA@UNC."
Life After MBA@UNC

Christopher came to MBA@UNC looking to expand his professional skillset and become a better leader. Since graduating from MBA@UNC, he was selected to command a nuclear-powered submarine and now applies his leadership knowledge every day.
"The program helped me really step back and see the big picture: to get another perspective of operating strategically, not just tactically. I also acquired many other tangible benefits like honing my writing and communication skills, which become increasingly important the higher you advance."
The views expressed in this story are of those of the interviewee, and do not represent those of the U.S. Navy.
Get Started Now
If you are ready to get started, apply now to join our next cohort.