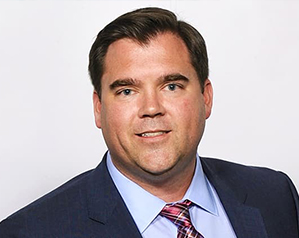 ADAM BROWN
Healthcare
Regional Medical Director at EmCare North Division
Before starting his MBA, Adam Brown was working as an associate medical director of an emergency department in Illinois. He was determined to improve his operational business skills in order to take on larger roles that would allow him to affect more patients' lives. Now, Adam holds multiple administrative and clinical positions with major health care organizations throughout the mid-Atlantic that directly serve more than 250,000 patients annually. This is his MBA@UNC story.
"As a physician I always wanted to make an impact on patients' lives. Now, as a businessman and practicing clinician, I can affect more than 250,000 patients annually by building better systems to care for these patients."
Bringing the Business of Health Care to the Classroom

Because MBA@UNC brings students from a wide variety of industries together to share their unique perspectives, Adam was able to help his classmates understand the common links between the business of health care and other industries. In doing so, he quickly realized that the perspectives they shared from their unique fields could provide him with valuable insights to improve his day-to-day effectiveness.
"I learned from my fellow students that other industries were very similar to health care. Using the lessons I learned from my professors and classmates about operations, finance and strategy, I was quickly able to improve the metrics of my own hospital."
Balancing Clinical Commitments and an MBA
As a physician and health care executive, Adam's career tasked him with a significant amount of travel as well as often unpredictable hours. His search for an MBA program with both the prestige he desired and the flexibility he needed to fit into his hectic schedule led him to MBA@UNC.
"When looking for a program, the idea of having scheduled, face-to-face, in-person interactions seemed impossible. Fortunately, I chose a program where I could have all the richness of a classroom experience while traveling on assignment to various areas of the country. On top of that, it brought a network and name recognition as strong as UNC Kenan-Flagler."
Maintaining the Relationships that Matter Most

During his time in the program, Adam moved from Chicago to Washington, D.C., bought a house, changed jobs, got a dog, maintained a great marriage and got promoted twice. While from afar those accomplishments may seem nearly impossible, Adam was able to keep his life and relationships intact by learning to prioritize—and at times learning to let go.
"Sometimes, dinner with my spouse was more important than pushing for perfection. Completing a task at work was more important than getting a perfect score on an exam. Life is that way. Maintaining a marriage, a career and an MBA is a challenge, but I succeeded by understanding that perfection is at times the greatest enemy of good."
Translating Classroom Learning to Real Patient Outcomes

The skills Adam learned throughout his time in the MBA@UNC program have had a significant impact not only on his own career, but also on the well-being of the patients he oversees. He has been promoted twice since beginning the program, each time being tasked with turning around struggling departments, and each time being able to implement strategic and organizational policies that greatly improved the quality and efficiency of care.
"Understanding the 'business' of health care is becoming extremely important. Those who can marry the clinical and business worlds will have many opportunities to make a more meaningful impact. An MBA helps those who are presently clinicians see both sides of the coin. The demand is high for those who understand clinical practice and the business environment."
Get Started Now
If you are ready to get started, apply now to join our next cohort.